The EFT Institute
™
Formerly The National Alliance for Emotional Health
Presents
Progressive EFT

™


Stress Relief Workshop
Using EFT to Alleviate Stress and Overwhelm on the Job


for One Medical Group



_______________________________________________________________

EFT Stress Relief Workshop - Stress in the workplace is not new...it just seems worse than it's ever been.Whether you're a health-care professional or an administrator, there's probably more to get done than you feel you can possibly do. And there seem to be more demands, more ways for people to reach you and more pressure than ever.

Being the in the health care field, you know that stress is a major cause for physical and mental illnesses.The world isn't likely to change, so if we are to survive it's up to us to change how we deal with stress.

In this two-day workshop you will learn how to use EFT (Emotional Freedom Techniques) to handle stress in a comfortable, effective and safe way. It's efficient and easy to self-administer, and it does not involve drugs, needles, or anything that will add more stress!

This course won't make your life stress-free, but it will certainly help you deal with stress in a healthier, more effective way. You, your family and co-workers will all benefit from your investing these two days in yourself.

This is an experiential workshop, so come prepared to get involved...and to have fun. I promise you won't get bored. Bring a pen, tablet and an open mind and plan on leaving your stress at the door when you leave.

Date and Time: January 21- 22nd, 9 AM to 5 PM

Location: One Medical Group, 559 Clay St., Second Floor http://www.onemedical.com/sf/locations

Tuition: $149 or $99 for day 1 only (reduced fee for One Medical Group)

Register for the EFT and Stress Relief, Level 1 - $149 (which includes the our Progressive EFT Level 1 Workbook)
$149

or register for the 1st Day only $99
(printed workbook not included for 1 day)

If you are not directed to the confirmation page immediately upon
registering, please contact us and we'll send it to you.


We accept


If you are enrolling more than one person, please register each separately.

Space is limited so you must pre-register to attend!
____________________________________
Once registered, you will be given more information about
the venue, transportation, accommodations, meals, logistics and more.
Still have questions? Contact us
or Dr. Jenny-Viva Collisson, your One Medical Group
coordinator of this project. Or call Jenny at 310-804-6881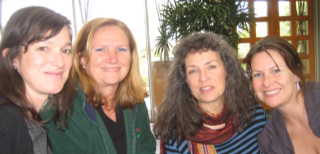 Jenny-Viva (left) and fellow students
________________________________________
About the Facilitator:


Association for the Advancement of Meridian Energy Techniques

Lindsay Kenny is one of only 28 EFT Masters in the world and is founder of the National Alliance for Emotional Health. She is also a certified Trainer of Trainers for AAMET and has worked with thousands of students and clients around the world using EFT for over 10 years.

Lindsay has been a coach and facilitator for over 30 years helping people lose weight, improve their health, alleviate stress and live healthier, happier lives. She is also an author and radio talk show host at www.ProEFTradio.com. Read more about Lindsay on the About Us page or listen to some of her media interviews on the Media page.

You can reach Lindsay at 415-507-0889, or e-mail her directly.
*We offer 16 CEUs for this course
for MFTs, LCSWs, and RNs
These educational credits are valid for California practitioners, and other
participating states only. Please check in your state for reciprocal
CEU acceptance. Certificates of Completion are awarded
based on successful completion of this course.
We offer many other tapping workshops
Check out our Workshop Schedule for 2012
______________________________________
If you can't attend our workshop lives, consider our Level 1 and 2 Webclass, coming soon. Our live workshops are the best, because you get to practice with others and ask questions. But if that's not possible, then our Level 1 and 2 Web-classes recordings are the next best thing. Level 1 & 2 Web-classes recordings
More questions? Contact us